Marla Garchik - President
Marla Garchik is an advocate and philanthropist. She is the founder and CEO of Peace Love Solve and The Seashell Project.
Because of her personal journey she created an apparel company to spread autism awareness and acceptance for children and adults on the autism spectrum. Made with love, a portion of each sale is generously donated to Autism Speaks. Marla also spearheads specialty campaigns to benefit other charities. She serves as an active Board Member of The Garchik Family Foundation and the Autism Speaks Washington DC and Palm Beach Chapters. Is also a past Board of Governor's member for the Hebrew Home of Greater Washington.
Marla has played significant roles in many charities, having served as a chair, committee member, sponsor or volunteer for: Autism Speaks, Boca Regional Hospital, JDRF, CSSAC, Hebrew Home of Greater Washington, JSSA, Jewish Federation, Yeshiva of Greater Washington, American Heart Association, Leukemia and Lymphoma, Mary's Center, Impact 100, Palm Beach County Food Bank, Farrah Fawcett Foundation, American Cancer Society, NAMI, Education Rocks, Alliance for Eating Disorders, United States Holocaust Memorial Museum and more.
What inspires Marla to serve so many organizations is an innate desire to help others, to bring some peace and kindness to the world, after seeing so many others suffer – and to support others in need who feel that they are alone and don't know where to turn.
Marla Lives in Highland Beach with her amazing son, loving husband and puppy. Her 3 beautiful grown children live in LA and in VA. She is an extremely proud Grandmother of 2. She enjoys spending time with her family, playing tennis, practicing yoga, cooking, and helping others.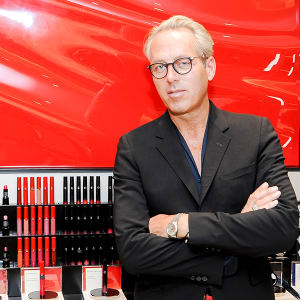 Tim Quinn - Chair
 A career in beauty means a lot of things —   the   opportunity to travel the world, work on   the most   prestigious editorial sets, and   garner a lot of   freebies. Sounds like the   dream role out of a   movie, right? But the   world of working in beauty   is so much more   than that — it all comes down to   the nuts   and bolts of being able to help women and   men feel beautiful when they need it most.
This is a notion that Giorgio Armani Celebrity Makeup Artist Tim Quinn has dedicated his entire life and career to.
However, Quinn's start in makeup was an accidental one. "I have a degree in economics and was working for Merrill Lynch after college for a few years before I quit my job to open an ice cream store... long story," he quips. After figuring out that his confectionary dream was nothing but just that, he took the leap of faith that many soul-searching young creatives do and moved to Milan to work as a model. "While there, I discovered a whole new world of opportunities," he says. "And it was the first exposure for me to the magic of hair, makeup and photography. I was intrigued and found myself signed on as a makeup assistant — I never turned back."
Since, Quinn has built a career around the pillars that got him there: authenticity, humility and grace — ultimately landing him a spot as one of the lead artists for Giorgio Armani.
And with his Armani brushes in hand at a globally-charged luxury makeup brand— absolutely nothing proves ordinary. "The only thing typical about my day is that no two days are the same," says Quinn. "Depending on the time of year, I may be working backstage for Fashion Week, or if it's award season, most likely I'm dashing around L.A. — otherwise, it's personal appearances or press, all balanced with any number of charitable endeavors."
With his busy schedule, making time for charitable events may be difficult, but it's something Quinn always does. "Anyone who knows me knows that my cancer experience in 2007 changed my life," he says. "I realized the importance of and the amazing transformative power of makeup as it relates to people dealing with the ravages of chemotherapy and radiation." Giving the gift of beauty is whyQuinn does what he does: "I found a true purpose in helping women and men look their best at a time when they need it most. This has become a passion of mine, and I'm fortunate to work for a company that supports my passion."
Quinn reflects back on a few standout moments of his career — the first which was thanks to his dear friend Carol Hamilton at the 2012 Dreamball. "Carol asked that I be her dreamboy, and I shared my story at Cipriani and truly was humbled at the outpouring of support and love," he recalls. As for a more glittering I-can't-believe-that-just-happened career moment, Quinn recounts doing Tina Turner's makeup at the One Night Only Show in Beijing with Mr. Armani. "I will never forget the experience — true joy," he says. "She told me the only other artist to get her eyebrows right was Kevyn Aucoin!"
As for what Quinn would be doing if he wasn't an artist: "I would be spending more time with my passions like Autism Speaks." Currently, Quinn serves as a chair for Peace Love Solve (which supports Autism Speaks and other non-profits), the Farrah Fawcett Foundation and the Mass General Hospital Cancer Center in Boston. 
Beauty, according to Tim Quinn, is finding what ignites passion within and transforming it into public duty. It's about "bringing that quality out so that your inner light shines bright," he notes.
And, his career secret is no different. "Be authentic," he says. "Show up, be thankful and humble — and surround yourself with people who support your dreams. And finally" — he pauses — "give back."                                       
Jack Garchik - Co-Founder & Chief Inspiration Officer
Jack Garchik was 2 1/2 years old at the time his parents heard the words, "your child has autism" Imagine hearing those words.... Life as you've known it is forever changed. Every 11 minutes, another family will hear these four life-altering words; words that define the facts, but did not define Jack.
At the time Jack was given the PDDNOS label, he was 1 in 150 children who received this distressing diagnosis (in 1980 the diagnosis rate was 1 in 10,000). Now, he is 1 in 59. Yet, Jack is one of the lucky few who benefitted from an early start in an amazing intervention program.
Jack had the opportunity to participate in an extremely intense early intervention program of 42 hours a week of ABA therapy. He now attends a mainstream school, is excelling academically, socially and athletically. That is what gives him the strength to advocate for so many others who are affected by Autism.
There are countless others who are not as fortunate. In fact, many children are completely unable to communicate, and live in an isolated world of their own.
Today, almost everyone knows of someone with Autism. Autism now affects 1 in 59 children and 1 in 42 boys. As you can see, the figures are growing. More children will be diagnosed with autism this year than with AIDS, Diabetes and Cancer combined.
Help us raise awareness and inspire acceptance. Wear Peace Love Solve. Wear Change.
Margie Halem, Vice Chair
A consistent top producer at COMPASS Real Estate, Margie is ranked among the top 1% of real estate agents nationwide by The Wall Street Journal and was named one of the DC area's "Best Realtors" in Bethesda and Washingtonian magazines. Clients hire The Margie Halem Group for their market knowledge, exceptional service, and their tech-savvy approach to buying and selling real estate.  Margie's personal connections with clients is even more important.  All receive her undivided attention, and face-to-face meetings as well as her personal networking. Margie is a skilled negotiator, detail-oriented and highly accessible. She has played significant roles in many charities. Having served as a chair, committee member, sponsor or volunteer for non profits and community causes. She has served as chair for the National Walk for Autism Speaks numerous times and the 2016 and 2019 Open You Heart Campaign Chair for the American Heart Association.
Jesse Garchik, Strategic Planning Consultant
Jesse Garchik is the Founder and Principal of Garchik Consulting Solutions, LLC, which was established to provide hands-on support to the many mission-critical nonprofits in DC and across the country.
Prior to founding Garchik Consulting, Jesse served as the Director of Development for the Greater Washington Region office of the American Heart Association, cultivating new relationships and stewarding donors. She executed several events each year, including an annual black-tie gala at the five-star Mandarin Oriental Hotel. She helped raise millions of dollars to build a world free of cardiovascular diseases and stroke.
Before transitioning to the nonprofit sector, Jesse worked as a Senior Account Executive with Ogilvy Public Relations. She worked onsite as a contractor for the National Institute of Neurological Disorders and Stroke (NINDS), an institute of the NIH. Jesse also worked as a professional services recruiter for Quadrant, Inc., staffing healthcare and IT candidates.
Jesse started her career in the insurance industry as an independent broker for The Meltzer Group in Bethesda, MD. She managed employee benefits, advocated on behalf of her clients, and participated on the company's internal communications and marketing committees. While there, Jesse also obtained her licenses to sell health, life, and long-term care insurance.
Jesse graduated in 2008 with a bachelor's degree in English Language and Literature from the University of Maryland, College Park. She is devoted to several philanthropic causes including: Autism Speaks, American Heart Association and the Leukemia and Lymphoma Society.                                                          
Shelley Menin, Director of Marketing
Janie Rubin, Education Consultant
Mary Ellen Quinn, Treasurer